Invalidenparkeerplaats noodzakelijk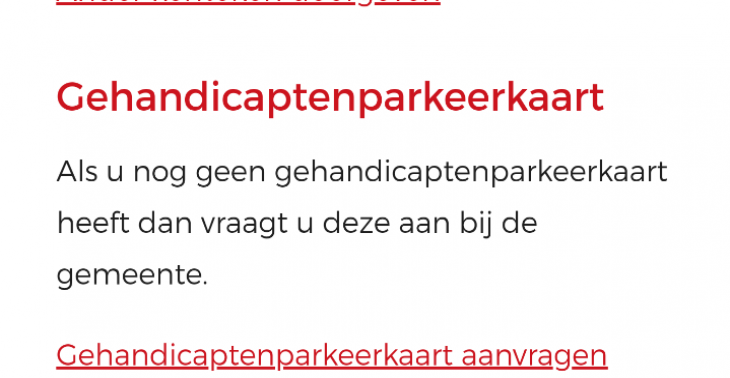 Hulp bij kosten invalidenparkeerplaats
0

donations
€

0
of € 300 raised

Be the first to support this fundraiser!
Hallo beste lezer,
Ik ben helaas genoodzaakt deze actie voor mijn moeder op te zetten. Mijn moeder heeft copd en is hierdoor heel erg benauwd, ook heeft zij afgelopen week van de arts te horen gekregen dat haar rugwervels versleten zijn en hier niks meer aan gedaan kan worden waardoor ze dagelijks veel rugpijn heeft en door deze combinatie van copd en rugpijn niet goed meer kan lopen.
Ze is al een tijd afhankelijk van een rollator en zou eigelijk een scootmobiel moeten hebben maar hier is helaas geen geld voor en een aanvraag hiervoor bij de gemeente loopt al 2 jaar zonder resultaat.
Door parkeerproblemen in de straat heeft iemand van de gemeente haar geadviseerd om een aanvraag te doen voor een invaliden parkeerplaats alleen is hier helaas ook geen geld voor en ze zal dit volledig zelf moeten betalen, de man die haar dit adviseerde is ook diegene die vanuit de gemeente goedkeuring moet geven bij een aanvraag en hij heeft aangegeven dat in haar situatie wel te doen omdat hij weet en gezien heeft hoe ze eraan toe is.
Hij is op de hoogte van het parkeer probleem bij haar voor de deur en vooral omdat er 1 buurvrouw is die continu haar auto op de parkeerplaats zet gelijk bij mijn moeder voor de deur. De afstand van het huis naar de eerste parkeerplaats is al circa 50 meter en dit is voor haar een hele opgave. Doordat de buurvrouw ( een jonge meid die te lui is om te lopen) de auto steeds daar neer zet moet mijn moeder vaak veel verder lopen en moet ze in de auto gelijk een pufje nemen en krijgt ze meer pijn.
De buurvrouw is hiervan op de hoogte en is gevraagd ( zelfs door de man van de gemeente) om er rekening mee te houden maar ze blijft het doen en lijkt het zelfs met opzet te doen, toen mijn moeder haar een keer aansprak op haar manier van parkeren (auto midden op 2 vakken) werd ze bedreigd door de ex van deze jongedame die er nog dagelijks komt, waardoor er voor ons niks anders op zit dan inderdaad een aanvraag te doen voor een invaliden plaats zodat mijn moeder makkelijker de auto kan bereiken.
Ik hoop dat er mensen bereid zijn ons hiermee te helpen.
Elke donatie groot of klein word heel erg gewaardeerd en ik hoop dat ze op korte termijn een aanvraag zal kunnen indienen.
Fundraiser organised by:

Kaya Kamphuis
0

donations
€

0
of € 300 raised

Be the first to support this fundraiser!
Show all donations