Materiaal aankopen voor overname Asiel .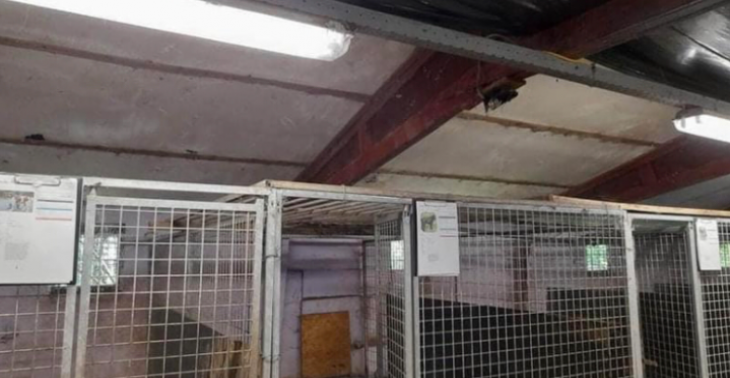 Share this fundraiser via:
Overname leegstaand asiel , centjes en materiaal nodig om op te knappen .
€0
of
€10,000
raised

Be the first to support this fundraiser!
Zoals we reeds eerder meldden, waren we op zoek naar terrein om een dierenasiel op te starten.
En plots was het daar, een kleine melding die binnen kwam, "het dierenasiel Folyfood in Waregem stopt ermee".
Waregem, binnen de zoekcirkel die we voorop hadden gesteld. Bereikbaar voor onze vrijwilligers.
Gesprekken met de huidige uitbater en de eigenaar van de terreinen volgden al snel.
Het is nu een feit. Op 15 september 2021 nemen het asiel over, samen met de nog overgebleven dieren. We werken verder op de werkwijze van Be Happy Dog, we nemen enkel het terrein over.
Dan wordt "dierenopvangcentrum Be Happy Dog," gelegen in de Casselrijstraat 90, te 8790 Waregem, een feit.

Alle contracten zijn ondertekend.
Dit betekend in de eerste plaats veel werk om de zaak op orde te krijgen.
Zoals de foto's aantonen, moet héél veel, gerenoveerd, hersteld en/of opgeknapt worden. Alles is in verouderde conditie.
- Er is momenteel geen loopweide, maar wel een groot stuk bos wat totaal verwilderd is. Hier moet alle dood hout uitgehaald worden en onkruid gemaaid. Hiervoor zullen mensen en materiaal nodig zijn.
- Daarna zal het terrein omheind moeten worden. Afsluiting, palen enz,..
- Verder moet het dakgebinte van de bestaande hal gerenoveerd/ hersteld worden. Hout en vakmensen is hier nodig.
- het dak moet geïsoleerd worden. Momenteel is het er in de winter even koud als buiten en in de zomer snikheet. Isolatiematerialen en helpende handen en mensen met kennis van zaken.
- Alles moet herschilderd worden. Verf, schildersmaterialen en helpende handen.
- de bestaande hokken moeten hersteld worden. Kennelpanelen, enz...
- verder moeten ook enkele vloeren hersteld/ vernieuwd worden. Hier hebben we in de eerste plaats adviezen nodig. Wat is mogelijk, makkelijk te onderhouden en dan materialen en mensen met vakbekwaamheid om de werken uit te voeren.
-Een kattenverblijf moet volledig opnieuw opgebouwd worden. Met buitenren. Alle materialen om dit te verwezenlijken zijn nog noodzakelijk. Inclusief de kleine dingen zoals kattenbakken en krabpalen.
Dit is een eerste opsomming van de meest noodzakelijk werken.
Zoals jullie zien is er veel werk en nood aan veel materialen.
Het oude asiel werkte met subsidies van meerdere gemeentes. We nemen de samenwerking met de gemeenten over. Dit betekend dat we paraat moeten staan voor de ophaling en opvang van gevonden dieren.
Spijtig genoeg staat de rekening van folifood op 0,00€ en zijn alle subsidies opgesoupeerd.
Dus we nemen dit asiel over met niets.
Er zijn nog 3 zakken hondenvoeding en dan is ook deze op. Dus onze eerste vraag is aan mensen uit de regio gericht. Hebben jullie nog honden- of kattenvoeding, dan is die zeer welkom op de aanwezige dieren te voeden.
Restjes nog bruikbare muurverf, om het even welke kleur, die anders op het containerpark zouden landen, dan zijn die ook welkom.
Welke kleur de muren krijgen is onbelangrijk, zolang ze maar weer proper zijn😁.
Kennelpanelen die niet meer gebruikt worden. Enz, enz...
Dit is een eerste korte mededeling. Er volgt later nog een update met veel meer details en gerichter vraag naar welke materialen er exact nodig zijn. Maar heeft u iets waarvan u meent dat het bruikbaar is, geef gerust een seintje. Alle hulp is welkom.
Ook financieel zal het eerste jaar heel zwaar worden. Daar we eerst zonder subsidies moeten werken. Is ook elke financiële steun, hoe klein ook, zeer welkom.
Fundraiser organised by:

Jurgen Berge

Be the first to support this fundraiser!
Show all donations