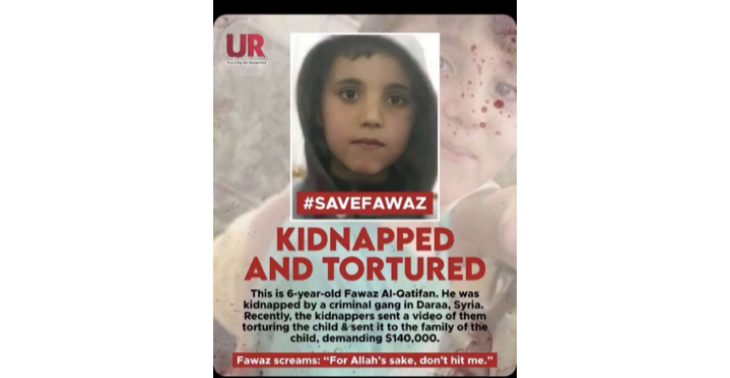 Fawaz Al-Qutayfan is the name of a Syrian child who is experiencing a brutal tragedy we need to help him!!!
€ 0
van
€ 500
ingezameld

Wees de eerste om deze actie te steunen!
Fawaz Al-Qutayfan is the name of a Syrian child who is experiencing a brutal tragedy that coincides with the shock of the Arab world in the death of Moroccan child Rayan, on Saturday.
Unidentified persons kidnapped Fawaz al-Qatifan from the village of Ibtaa in the countryside of the Syrian governorate of Daraa, and his kidnappers published videos of his torture, demanding a ransom of 500 million Syrian pounds, equivalent to about 143,000 US dollars.
The pioneers of social networking sites launched the hashtag "Save the Child Fawaz Al-Qatifan", and some of them even announced a donation campaign to save the child.
Although the child Fawaz Al-Qatifan was kidnapped more than 90 days ago, the videos of his torture made his story top the search engines and social networking sites again, especially as it came in conjunction with the tragedy of the death of the Moroccan child Rayan inside a well in which he fell for 5 days.
Musab Al-Qutayfan (the child's uncle), said that the kidnappers gave them a deadline until next Wednesday to secure the required amount, and threatened them to amputate the child's fingers if the requested money was not sent.
According to the boy's uncle, on November 2, while Fawaz and his 9-year-old sister were going to school in the morning, 4 masked men, including a woman, kidnapped him on two motorcycles. His sister tried to follow them for a few minutes, and then they disappeared in front of her eyes with Fawaz.
The pioneers of "Social Media" circulated pictures of the kidnapped child Fawaz Qetaifan, and the video was circulated in which the child appears half-naked and being flogged, and he has no choice but to beg his kidnappers with the phrase "For God's sake, do not hit me."
Artists interacted with the case of the child Fawaz Al-Qutayfan, calling for all efforts to be made to release him.
The Lebanese singer, Nancy Ajram, posted on her Instagram story, a picture of Fawaz Al-Qutayfan, to express her sadness at the situation and the violence that the child is experiencing.
And the Lebanese artist, Cyrine Abdel Nour, published a tweet on Twitter, in which she wrote: "You saw that the devils live between us. You saw that the war exists between innocence and impurity. May God forgive you and guide you to mercy for your unjust hearts, oh without conscience. demons".
Actie georganiseerd door:

Shakira Giordano

Wees de eerste om deze actie te steunen!
Toon alle donaties
Website widget
Voeg een donatieknop van deze actie toe aan een website of blog