Please support my medical treatment I can't afford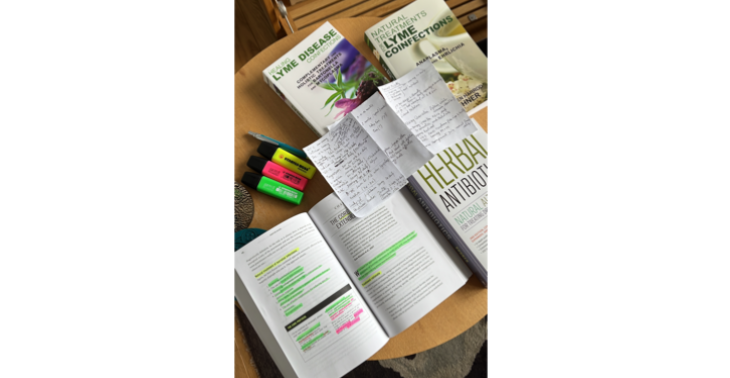 I finally received a full diagnosis from my Dutch functional doctor
€ 0
van
€ 5.000
ingezameld
Hello dear friends,
Thank you for reading my genuine fundraiser till the end, I appreciate your time and understanding.
I decided to rewrite this text, leaving out the details of those 8 years of pain, frustration and daily struggles. I'll be focussing more on my healing, which is what I really want to achieve!
Earlier this year my functional doctor in the Netherlands gave me a full diagnosis, I'm affected by chronic Lyme and it's co-infections, plus a couple other infections/bio-toxins. They damage my nerve and connective tissues, and I want them out so my body can repair itself and I can smile more through life, pain free.
There are different treatment options available, after careful consideration I choose the Buhner protocol, which is a herbal approach of strong "Chinese Medicinal herbs". Certain herbs I will need to take for 12 to 18 months to clear it all out, though most lyme patients feel much better after 3-4 months, and maybe I could then slowly take up a new life again.
I will need to take multiple medicinal herbs for several months in a row, they are proven by scientific literature and confirmed by herbalists and ex-lyme patients that these herbs work selectively in either eliminating chronic lyme or reducing the illness to a low enough level that a normal life is possible again.
The alternative solution, taking 3 antibiotics for months and repeat this over an over again, as Lyme bacteria tends to hide in tissues, is not an option for me. Antibiotics (anti-life) kill all organisms while herbs kill selectively the lyme microbes. Taking antibiotics long term will destroy my balanced microbiome flora, something I worked so hard on last year strengthening it! Since a year I can eat all vegetables again without any gas, bloating and much less constipation, this after a decade of chronic digestive issues, so antibiotics are not an option for "chronic lyme", however I think they could be very helpful to treat "acute lyme" during a 3 week course if bitten recently by a tick.
As with so many other Lyme patients, Lyme has also stripped on certain days or moments my energy, my cognitive functions and my savings during the past 8 years, the CPAS/OCMW allowance of €808 (indexed 2023) is the bare minimum to eat and live. Unfortunately I lack several hundreds of euros monthly to be able to cover all my medical supplies of Chinese herbal tinctures and support supplements to beat Lyme and reclaim a healthy life.
Please consider a donation, small or big, so I can soon get back into a normal life. I strive to be healthy again, get back to a meaningful job, earn my living again and contribute to the society, giving back by helping others.
Thank you for all your messages of support x x x
Gratefully yours,
Tom
Website widget
Voeg een donatieknop van deze actie toe aan een website of blog
Actie georganiseerd door:
Tom Ackaert
€ 0
van
€ 5.000
ingezameld
Website widget
Voeg een donatieknop van deze actie toe aan een website of blog