Help Tiago terug op zijn pootjes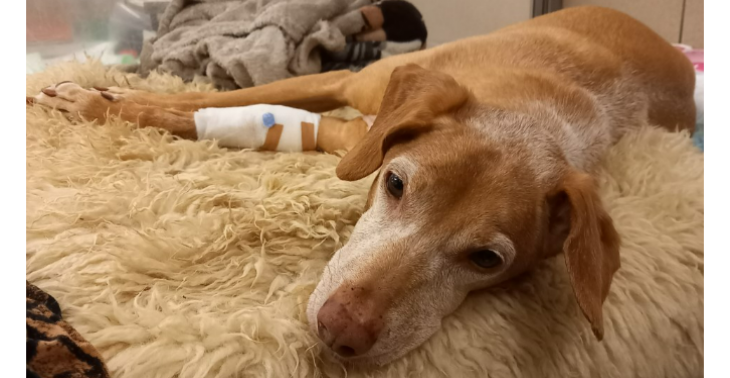 Share this fundraiser via:
Woensdag gebeurde het ondenkbare, de o zo actieve en speelse Tiago zakte in elkaar en was plots helemaal verlamd.
We brachten hem meteen naar de dierenkliniek en daar kon hij dan ook niet meer zelfstandig ademen. Al snel werd ik voor de keuze gezet, of ik liet hem onderzoeken en betaalde duizenden euro's voor de scan en opname of anders liet ik hem beter inslapen.
Die keuze was heel snel gemaakt en uit de onderzoeken bleek dat Tiago een tussenwervel had in zijn nek die opeens kapot gesprongen was. Door de druk op zijn ruggenmerg kon hij dus niet meer bewegen of ademen.
Na bijna een week, een operatie en veel tranen later, kan Tiago gelukkig terug zelfstandig ademen. Op dit moment kan hij nog niet echt bewegen maar deze ochtend kreeg ik het goeie nieuws dat hij zijn pootje lichtjes bewoog (YES!). Deze signalen geven steeds meer hoop op herstel.
Via deze weg wil ik even uitreiken naar mijn vrienden, familie en kennissen om dit proces wat mee te helpen dragen. Dit kan door eens even aan ons te denken, een kaarsje te doen branden of een centje te doneren om ook de financiële kant wat draaglijker te maken en Tiago de nodige zorgen te geven om terug rond te kunnen huppelen.
ps. zijn zangtalent is gelukkig nog aanwezig dus als alles goed gaat, zingt hij graag binnenkort nog eens een liedje voor jullie.
Dankjewel voor alle steun en liefde die we al mochten ontvangen.
Veel liefs, Lisanne en Tiago
Fundraiser organised by:

lisanne ruyssinck