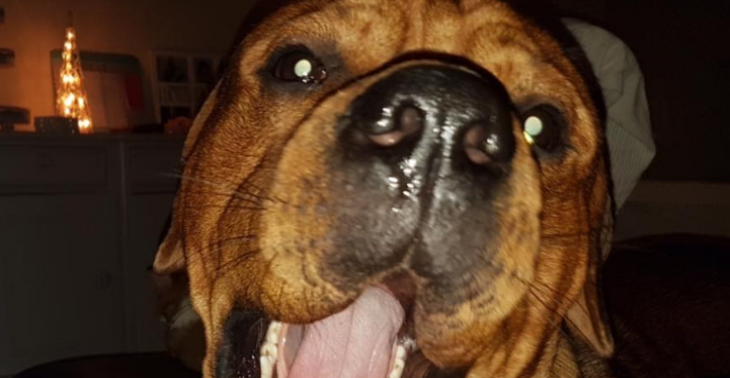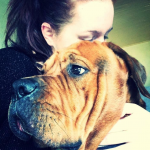 Onze lieve viervoeter heeft met spoed een nieuwe heup nodig, hij gaat steeds slechter lopen, help ons aub
0

donations
€

0
of € 5000 raised

Be the first to support this fundraiser!
Hallo mijn naam is Joyce, samen met mijn zoontje ben ik in het bezit van onze kruising Rottweiler x Amerikaanse Bulldog genaamd Tyson. Tyson is inmiddels 3 jaar oud en is echt een vreselijke lieverd, een goedzak die letterlijk geen vlieg kwaad doet (voor vliegen en beestjes spring hij opzij) Tyson hebben wij 3 jaar geleden gered uit de handen van een broodfokker, die het nest verwaarloosde, mishandelde en ondervoede. Na heel veel liefde, goed voedsel en veel training is Tyson de trouwe viervoeter geworden die hij nu is.
Helaas begon tyson een half jaar geleden raar te lopen, mank en haast wankelend. We zijn toen gelijk met Tyson naar de dierenarts gegaan en die zei dat we het even aan moesten kijken.
Het leek weer even een tijdje goed te gaan, maar helaas kwamen de klachten vorige maand in alle hevigheid terug.
Na vele onderzoeken is gebleken dat Tyson aan zijn rechter heup geopereerd moet worden. Zo blij als dat ik was dat er in ieder geval iets aan gedaan kan worden, zo verdrietig werd ik toen ik hoorde wat het moet gaan kosten. Om en nabij 5000 euro.
Hoe hard ik het ook geprobeerd heb, dit geld is voor ons gewoon niet bij elkaar te krijgen, m'n sociale krijg is helaas heel erg klein, en het beetje familie wat ik heb, kan mij hier helaas ook niet bij helpen.
Vandaar dat ik deze crowdfunding opgestart ben. In de hoop alsnog zo snel mogelijk dit geld bij elkaar te krijgen. En mocht dit lukken, houd ik jullie uiteraard van alles op de hoogte.
Ik hoop oprecht dat het via deze weg gaat lukken het bedrag bij elkaar te krijgen, want we willen onze beste vriend nog lang niet kwijt, hij is nog zo jong en heeft al zo'n slechte start in het leven gehad. Ik hoop nog vele jaren te kunnen genieten van en met onze lieve Tyson.
Iedere euro is er 1 en voor iedere donatie ben ik even dankbaar! Kon ik maar beschrijven in woorden hoe veel. Alvast heel erg bedankt!
Helaas kan er via gofund me pas vanaf €5,- gedoneerd worden. Mocht u toch willen doneren maar minder dan €5,- dan heb ik voor u een tikkie aangemaakt waar u zelf het bedrag in kunt vullen. Nogmaals, ik ben dankbaar voor iedere euro.
https://tikkie.me/pay/gv2o2clr0rbfk5f05t7e
Fundraiser organised by:

Joyce Van Eijken
0

donations
€

0
of € 5000 raised

Be the first to support this fundraiser!
Show all donations