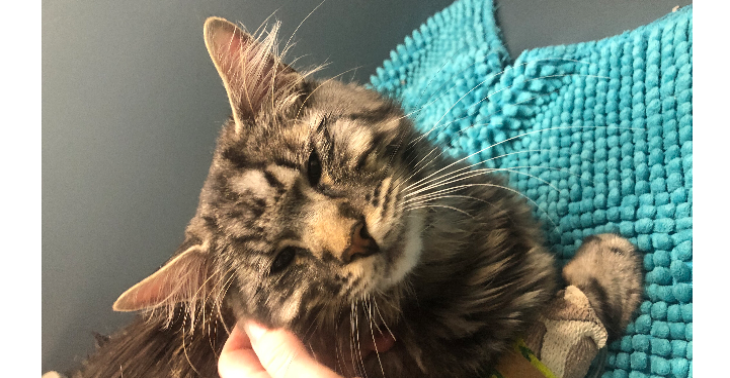 Share this fundraiser via:
Beer heeft dinsdag een spoed operatie gehad.
Operatie beer
——————
-wie is beer?
beer is mijn allerliefste kat van 11 maandjes oud. Hij is echt een knuffel(beer)tje. Hij is zo lief en sociaal. Wilt altijd graag knuffelen en lekker veel aandacht hebben.
beer is geboren op 10 mei 2021.
en sinds juli 2021 woont hij bij mij.
—————
updates:
Update: donderdag 21:58
Beertje is eindelijk weer thuis
In de kliniek wou hij nog niet eten. Net thuis gekomen en hij begon gelijk te eten van zijn liquid snackje.
Het gaat al veel beter met beer. Is ook veel actiever weer. Nu nog lekker bijkomen en rusten.
Update: woensdag 21:00
Ik ben net bij beer geweest in de kliniek.
Helaas heeft hij nog steeds niet gegeten of gedronken. En moet hij nog een nachtje blijven.
Morgen ochtend wordt ik gebeld hoe het gaat met hem en of hij morgen naar huis mag.

Update: woensdag 14:26
Vanavond rond 20:00 ga ik bezoek brengen aan beer.
Helaas wilt hij nog niks eten en drinken. Ook is hij nog suf. Het gaat wel al wat beter dan voor de operatie.
Ik heb wat lekkere snackjes gekocht waar hij veel van houdt. Ik ga proberen of hij dat wel aanneemt.
Als hij vanavond gaat eten en drinken mag hij vanavond naar huis. Is dat niet het geval, dan blijft hij een extra nachtje.

Update: dinsdag 22:04
Ben net gebeld door de dierenarts. Operatie is geslaagd. Het is goed gegaan. Tot nu toe zijn er geen complicaties.
Morgen wordt ik gebeld of ik hem dan kan ophalen

———
Nu (dinsdag) 15:40 ben ik onderweg naar de dierenarts met spoed.
Beer moet zo snel mogelijk geopereerd worden.

Verhaal:
Beer voelt zich sinds maandag niet lekker. Toen zijn we maandag om 16:00 naar de dierenarts gegaan.
Hij heeft een prikje gehad tegen misselijkheid. Omdat hij de hele dag door spuugde.
Sinds maandag ochtend heeft hij niks meer gegeten of gedronken. Hij is dus uitgedroogd.

Dinsdag:
We zijn om 14:00 weer terug gegaan naar de dierenarts. Want beer was nog steeds niet lekker.
Dus er zijn röntgenfoto's gemaakt. hij heeft een onbekend voorwerp gegeten wat nu vast zit in z'n darm.

Wat nu:
We moeten hem nu met spoed laten opereren.
Anders haalt hij het morgen niet meer omdat zijn darm dan afsterft en zijn organen het gaan begeven.
Hij heeft vocht toegediend gekregen en zit aan het infuus.

Maar wat is nu het probleem?:
De kosten zijn opgelopen naar 3200,- euro. De kosten zijn niet zeker omdat er altijd nog complicaties kunnen komen. Of dat beer extra nachten moet blijven.
(Heb nu een verzekering, voor dit probleem is het te laat)

Ik dwing niemand om te "doneren"
Ik vraag alleen hulp. En de keuze is aan jullie of jullie mij en beer willen helpen❤️
En alvast heel erg bedankt!
Namens mij en beer❤️
Fundraiser organised by:

Mara Disco