Opleiding hulphond Pepper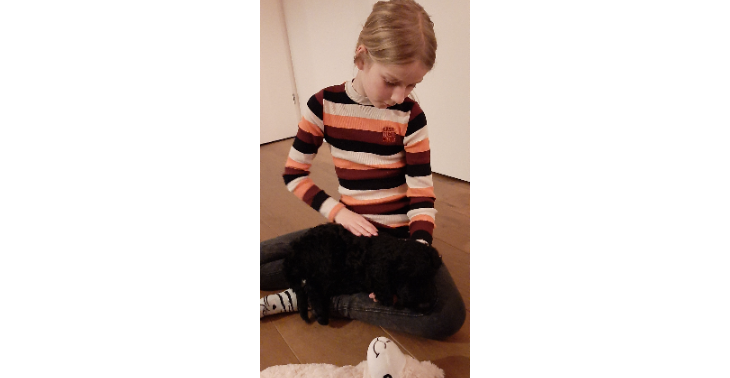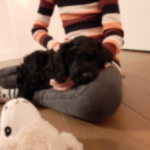 Pepper wordt ingezet als maatje en begeleiding voor een meisje met MCDD (meervoudige complexe ontwikkelstoornis).
130

donations
€

3055
of € 6000 raised
Onze dochter Niene is een meisje van 11 jaar gediagnostiseerd met MCDD. Wij zien bij haar verstoorde regulaties van emoties. Boosheid kan al snel woede worden en spanning al snel angst of paniek. Ze kan zich moeilijk verplaatsen in sociale omgangen. De wereld om haar heen is voor haar moeilijk te begrijpen en geeft verwarring en onrust. Dit heeft natuurlijk ook weerslag op ons gezin. De spanning is verhoogd en uitstapjes en vakanties gaan steeds lastiger. Belangrijke acties als kapper, tandarts, orthodontist, een bezoek aan de winkel gaan steeds moeizamer door angsten en steeds vaker complete paniekaanvallen.
Zorg vanuit de gemeente gaat moeizaam. Steeds wisselende mensen die het traject vanuit de gemeente begeleiden. Steeds weer afhankelijk van hoe een ander het oppakt, steeds weer je verhaal doen, je kwetsbaar opstellen en vervolgens maar weinig verder komen. De gemeente Kampen geeft niet makkelijk een zorgarrangement af en staat hier helaas ook om bekend.
MCDD is een blijvend probleem en is ook niet met eventjes een therapie op te lossen. Stressreductie is bij MCDD van belang om ergere situaties te voorkomen. Niene gaat richting de puperteit. Voor andere kinderen is dit al verwarrend, met MCDD zorgt dit voor meer spanning en paniek. MCDD kan in die tijd en daarna verhoogde kans geven op schizofrenie, borderline en psychoses, wat we niet willen.
Na veel inlezen, positieve ervaringen vanuit de MCDD oudergroep en telefonisch contact met verschillende hulphonden scholen hebben wij weloverwogen een pup aangeschaft om Niene een maatje te bieden. Toch merken we dat er meer dan een maatje nodig is! Een hond die weet hoe die haar moet steunen bij onweer, een hond die mee kan en mag naar b.v. de tandarts, een hond die woedebuien kan doorbreken, etc. Kortom een opleiding tot officiele hulphond waar een behoorlijk kostenplaatje aan zit. Een groot deel kunnen we zelf behappen zoals de aanschaf van de pup, de basis puppycursussen en een deel van de training tot hulphond etc betalen we allemaal zelf. Helaas redden we het daarmee niet. Totale kosten inclusief aanschaf van de pup zullen rond de 12.000 a 13.000 euro liggen. Onze gemeente wil hier niet aan bijdragen want de inzet van een hulphond is niet voldoende wetenschappelijk bewezen. Ook wordt dit door geen enkele zorgverzekering vergoed. Vandaar toch deze steunctie, waar we ook heel lang over getwijfeld hebben. Waarbij we willen laten weten dat je je zeker niet verplicht moet voelen en wij dankbaar zijn met alle beetjes. Met de 6000 euro waar het doelbedrag nu op staat kunnen wij de volledige opleiding afmaken.
Op eigen kosten zijn wij al begonnen met training van Pepper omdat de puppycursus door alle maatregelen nu vervalt en met het idee dat alle beetjes helpen. Pepper wordt getraind door www.pawsforyou.me Op onze steunactie site kunt u verdere voortgang van de training straks volgen.
Namens ouders, Niene en Pepper alvast bedankt voor het bezoeken, delen en/of doneren voor deze actie.
Fundraiser organised by:

Bouwiena Edink
130

donations
€

3055
of € 6000 raised