Pumpkin fights for her life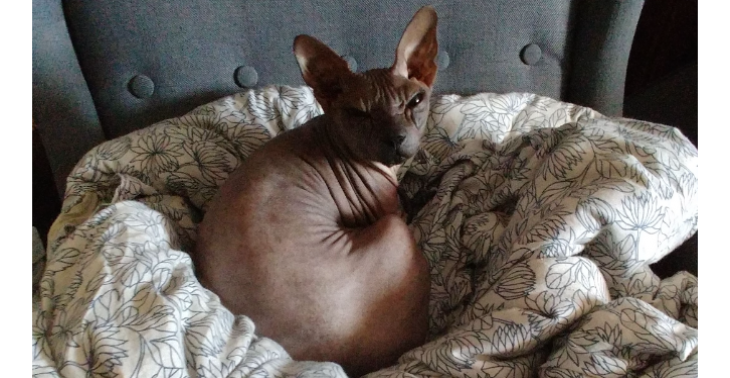 Share this fundraiser via:
Hi I'm Bianca and my fundraiser is about my cat Pumpkin. Today my cat was diagnosed with FIP - Feline Infectious Peritonitis
ENGLISH (German below):

Hi I'm Bianca and my fundraiser is about my cat Pumpkin.

Today my cat was diagnosed with FIP - Feline Infectious Peritonitis. FIP is a viral disease in cats. If FIP is diagnosed in cats, the disease is likely to be deadly.

There is only one treatment for it and even this is not a 100% certainty that she will survive. Nevertheless, I would like to try everything to give her a second chance.
There is a remedy called GS-441524 which has helped some cats.

I would use the donation to buy the medicine and to pay for the regular treatments at the vet. The product costs 1550€ and the vet costs another 650€.

I would need to raise the money as soon as possible as every day counts for Fip.

Pumpkin came into my life 8 years ago. She was the first of her litter to walk towards me. She chose me as her human. Since she has been with me she has slept in my bed every night and has run after me everywhere in my flat. She is more than just a pet, so much more. She is the most precious thing I have in my life. She was there for me when I was diagnosed with depression. She has always been by my side. For me to lose her would be the worst thing.

Thank you from the bottom of my heart to everyone who donated to Pumpkin and gave her a second chance.

From my heart Bianca

GERMAN:

Hallo ich bin Bianca und in meiner Spendenaktion geht es um meine Katze Pumpkin.
Es wurde heute bei meiner Katze FIP- Felinen infektiösen Peritonitis diagnostiziert. Bei FIP handelt es sich um eine Viruserkrankung bei Katzen. Wird die FIP bei Katzen festgestellt, ist mit einem tödlichen Verlauf der Erkrankung zu rechnen.
Es gibt nur eine Therapie dagegen und auch dies ist keine 100% Sicherheit das sie überlebt. Dennoch möchte ich alles Probieren um ihr eine zweite Chance zu geben.
Es gibt ein Mittel mit dem Namen GS-441524. Dieses Mittel hat einigen Katzen geholfen.
Die Spende würde ich dafür nutzen um das Mittel zu kaufen und um die regelmäßigen Behandlungen beim Tierarzt zu finanzieren. Das Mittel kostet 1550€ und die Kosten vom Tierarzt nochmal 650€.
Das Geld müsste ich so schnell wie möglich zusammen bekommen, da bei Fip jeder Tag zählt.
Pumpkin ist vor 8 Jahren in mein Leben gekommen. Sie war die erste die aus ihrem Wurf auf mich zu gelaufen ist. Sie hat mich als ihren Menschen ausgesucht. Seit sie bei mir ist hat sie jeden Abend bei mir im Bett geschlafen und ist mir überall hinterher gelaufen in meiner Wohnung. Sie ist mehr als nur ein Haustier, so unendlich viel mehr. Sie ist mir das wertvollste was ich in meinem Leben besitze. Sie war für mich da als ich mit Depressionen diagnostiziert worden bin. Sie war immer an meiner Seite. Für mich wäre es das schlimmste Sie zu verlieren.
Ich danke allen vom ganzen Herzen die für Pumpkin spenden und ihr dadurch eine zweite Chance geben.
Von Herzen Bianca
Fundraiser organised by:

Christoph Demon