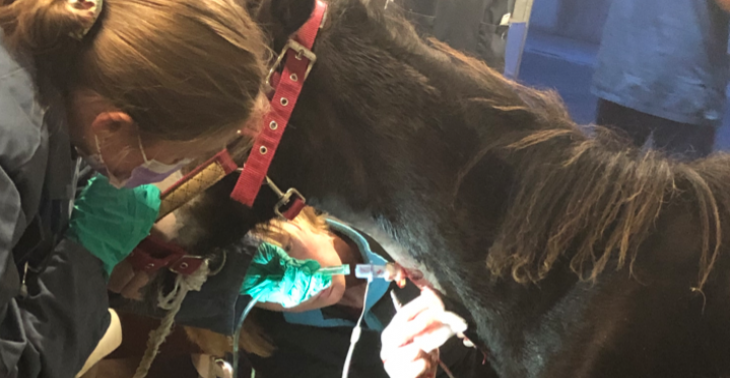 Share this fundraiser via:
Mary heeft een heel erge vorm van Droes. Alle hulp is welkom om haar erdoor te halen! Alvast heel erg bedankt!
Wat als 2 ogen je vragen; 'help me'?
Jullie hebben Mary waarschijnlijk al wel eens zien passeren. Mary is een ponyveulentje die al enkele maanden bij Scott liep. Echter zijn mijn Scott en Mary heel ziek.
Voor Scott valt het allemaal wel mee, maar Mary is er slechter aan toe. De ziekte die ze heeft heet 'droes', onder de paardenmensen is dit zeer goed gekend.
Wat is Droes nu eigenlijk? Dat is een vies virus die het meest voorkomt bij (jonge) paarden. Het zet zich op de ademhaling en geeft koorts, hoesten, veel snot en zorgt ervoor dat de dieren vermageren. Ze krijgen in de ergste gevallen ook absessen in de hals die dan openbreken.
Bij Mary is het echter een ander verhaal. De absessen zijn langs binnen opengebroken waardoor ze niet meer kon ademen. Het was dus ofwel haar laten sterven, of haar helpen in de kliniek.
Uiteraard, als de dierenvriend die ik ben, probeer ik altijd om het dier erdoor te halen, alsook Mary. Ik kon haar niet zomaar laten sterven.
Aangezien Mary oorspronkelijk niet van mij was, had ik een vooropgesteld budjet. Er was mij verteld dat de kosten daar zeker onder gingen blijven. Echter blijkt nu dat er veel complicaties zijn en de kosten wel tot 2-3 x mijn vooropgesteld budjet zullen kosten.
De mensen die me kennen weten dat ik de laatste tijd al veel problemen gehad hem met zieke dieren, dus dit is voor mij financieel een grote kost.
Er zijn 2 opties;
Mary komt nu naar huis, want we zitten nu aan mijn budjet, maar dan mag ze nooit bij andere paarden en is de kans meer dan 80% dat ze chronische problemen krijgt met ademhalen en slikken.
Mary blijft in de kliniek en we zetten de behandeling verder, maar dan kunnen de kosten oplopen tot €2000 of meer.
Aangezien ik een waardig leven wil voor Mary, heb ik uiteraard gekozen voor optie 2. Maar hierdoor wil ik jullie ook vragen om hulp. Het is echt een noodkreet, want de mensen die me kennen weten dat ik zoveel mogelijk al mijn problemen zelf aanpak en mijn dieren zo goed mogelijk probeer te verzorgen.
Mocht je Mary willen steunen is elk beetje welkom! Stel dat het vooropgestelde bedrag gehaald wordt, en de kosten zijn lager, ga ik het overige ingezamelde geld schenken aan 'The old horse lodge', het paardenasiel in Laarne.
Ik doe dit 100% voor Mary, want ze heeft ook recht op een paardwaardig leven.
Alvast 10000x dank!
Fundraiser organised by:

Laura Backx