RHGD reddingshonden: onmisbaar!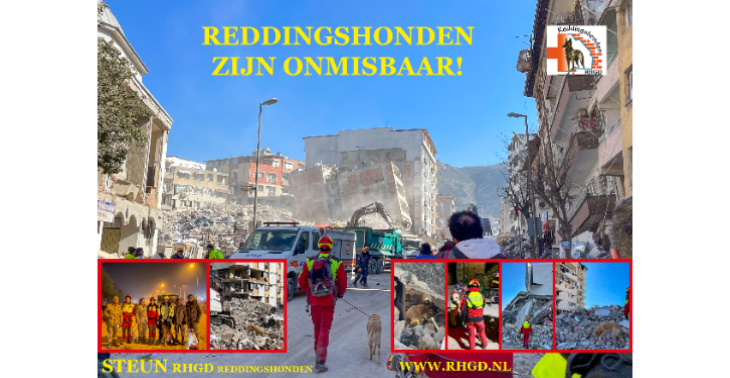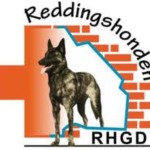 Share this fundraiser via:
Aanschaf essentiële uitrusting honden en geleiders bij (internationale) inzetten
RHGD Reddingshonden zoekt naar overlevenden na de aardbeving in Turkije
'Onderweg met onze zoekhonden naar een melding. Er is geluid gehoord en mogelijk kans op het vinden van een overlevende! Naarmate we verder het centrum inrijden is er geen straatverlichting meer. Het is spookachtig stil. Hier zijn nog geen graafmachines aan het puinruimen.
Scheef hangende betonnen karkassen doemen op vanuit een gele mist van stof.
We stappen uit en staan voor een enorme puinbult: het restant van een ingestort zes verdiepingen tellend gebouw. Onze honden gaan geconcentreerd aan het werk. Beide geven aan dat hier wat is. De verwijzing wordt gemeld bij de inzetleiders van de SAR en de SRO*. Terwijl een bergingsteam wordt opgeroepen, gaan wij verder. Hopend op een volgende melding'.
RHGD Reddingshonden zoekt naar vermiste personen, zowel in Nederland als in het buitenland. Zonder subsidies of overheidsondersteuning staan onze vrijwilligers 24/7 klaar om te helpen.
Om bij een vermissing of noodsituatie direct en adequaat in actie te kunnen komen, is het essentieel om een goede uitrusting te hebben voor hond en geleider.
Te denken valt aan o.a. vliegtuigbenches, tenten, slaapmatten, slaapzakken, rugzakken, maar ook hondenjassen, veiligheidsschoenen etc.
Wij stellen uw steun zeer op prijs!
*(Stichting RHGD Reddingshonden is onderdeel van SRO-Samenwerkende Reddingshonden Organisaties)
Fundraiser organised for:
Stichting RHGD Reddingshonden
Stichting RHGD Reddingshonden stelt haar reddingsteams belangeloos beschikbaar bij zoekacties naar vermiste personen in Nederland, de grensstreek maar ook bij internationale rampen. Zowel familie van de vermiste persoon, als ook gemeenten, politie, brandweer en collega-reddingshondengroepen (onder de vlag van SRO) kunnen een beroep op ons doen.
Wij zijn 7 dagen per week, 24 uur per dag bereikbaar via ons alarmnummer 06-51 73 92 62.
Fundraiser organised by:

RHGD Reddingshonden