Smart Paint -Warmtegenererende verf -Laag elek. verbruik -Milieuvriendelijk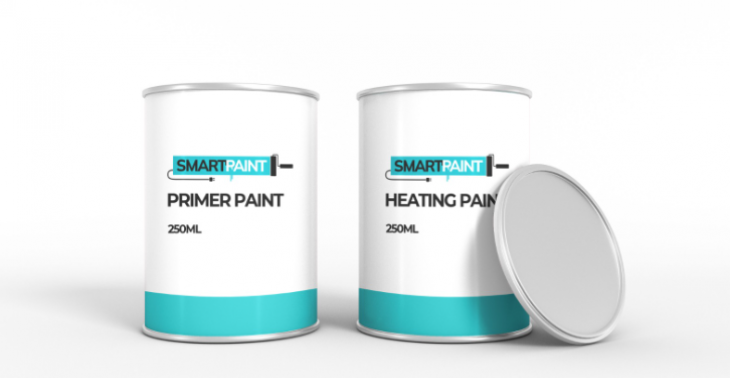 Share this fundraiser via:
Warmte genererende verf Laag elek. verbruik Milieuvriendelijk Betrouwbaar Hoge energie-efficiëntie
€0
of
€85,000
raised

Be the first to support this fundraiser!
Warmte genererende verf
Het is een thermische verf die wordt aangebracht zoals conventionele verf en die warmte-energie produceert wanneer elektrische spanning wordt toegepast.
Betrouwbaar
Het brandt of glanst niet tot 2000 C. Het vormt geen elektrische bedreiging als de elektrische installaties worden uitgevoerd door bevoegde personen in overeenstemming met de voorschriften.
Ergonomisch verwarmingssysteem
Het biedt economische, efficiënte en gemakkelijke oplossingen in verwarmingssystemen voor woningen en werkplaatsen, industriële gebieden, veeteelt, landbouw en vele productiesystemen.
Onderhoudsvrij
Het kan eenvoudig worden aangebracht met een verfroller. Het gaat lang mee en vereist geen onderhoud. Zelfs als het gebied waar de verf wordt aangebracht met een boor wordt geboord, verliest de nagel zijn functie niet.
Laag elektriciteitsverbruik
Het kan worden gebruikt met zowel AC- als DC-bronnen met 220V-netspanning en lage spanningen zoals 12V / 24V / 48V.... Het produceert hoge temperaturen met een laag energieverbruik.
Integratie in softwaresystemen
Het kan worden geïntegreerd in automatiseringssystemen met behulp van bedrade of draadloze thermostaten. Het kan worden bestuurd en beheerd via mobiele apparaten en computers.
Hoge temperatuurniveaus
Verhitten tot 800°C kan worden verkregen door maximaal 20 keer aan te brengen.
Integratie in zonnepanelen
Het kan eenvoudig worden geïntegreerd in hernieuwbare energiesystemen en er kan volledig gratis warmte-energie worden verkregen.
Homogene warmteverdeling
Het is gemakkelijk aan te brengen op de gewenste afstanden en hoeveelheden in de omgeving waarin het zal worden gebruikt, en verwarmt de hele omgeving gelijkmatig.
Gepatenteerd, binnenlands product
Warmteverf is een huishoudelijk product met gepatenteerde TSE-, TÜV- en CE-certificaten.
Hoge energie-efficiëntie
100% van de gebruikte elektrische energie wordt omgezet in warmte-energie. Het produceert warmte-energie zonder verlies.
Milieuvriendelijk
Rook, roet enz. produceert geen afval, is niet schadelijk voor het milieu.
Signaalblokkering
Het blokkeert RF- en GS-signalen door als storing onderdrukkingsscherm voor elektronische apparaten te fungeren.
Filteren
Het kan allerlei lucht en rook filteren. Het blokkeert giftige gassen.
Antibacterieel oppervlak
Het kan worden gebruikt om de hygiëne op oppervlakken te waarborgen.
Aan het bedekken
Het heeft een lichte, zeer sterke kapcoatingfunctie.
Chemische bescherming
Het is bestand tegen alle soorten zuren.
Corrosiepreventie
In de bouwsector heeft het een corrosie remmende functie.
Fundraiser organised by:

Dimitri Radev

Be the first to support this fundraiser!
Show all donations