Zonnebloem 40 jarig jubileum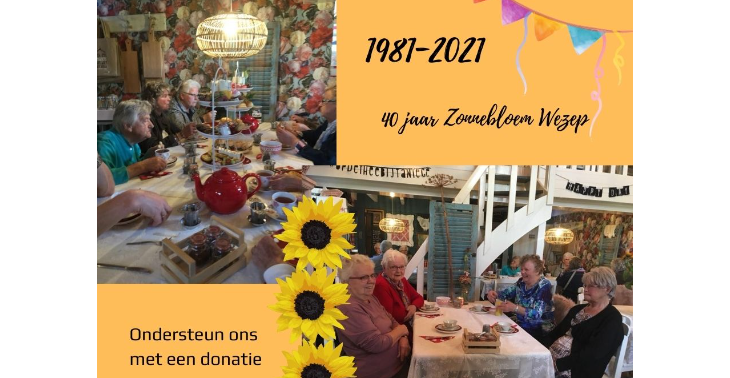 November 2021 bestaat de afdeling Wezep van de Zonnebloem 40 jaar. Wij willen dit graag met onze gasten vieren.
9

donations
€

120
of € 1000 raised
Wil jij ons steunen met een donatie?
In November van dit jaar bestaat onze Zonnebloem-afdeling uit Wezep 40 jaar.
Wat zou het fijn zijn om dit samen met onze gasten te kunnen vieren.
Al sinds 1981 helpen wij mensen met een fysieke beperking bij een gezellig uitstapje of een gezellige middag. Ook brengen wij met regelmaat een bezoekje aan onze gasten. Samen praten over koetjes en kalfjes onder het genot van een kopje koffie kan al zoveel betekenen.
Afgelopen jaar was het voor de Zonnebloem een jaar vol aanpassingen. Helaas konden de geplande uitjes niet door gaan. Toch hebben wij ons uiterste best gedaan om steeds weer iets actiefs te doen voor onze gasten, zodat zij deze moeilijke tijd steeds iets hadden om naar uit te kijken.
40 Jaar Zonnebloem Wezep en Hattemerbroek. Dat kunnen wij niet zomaar voorbij laten gaan. Wij willen dit graag vieren door een feestelijke activiteit te organiseren met en vóór onze gasten.
Omdat wij afhankelijk zijn van giften en donaties vragen wij hierbij jouw steun. Om een feestelijke activiteit te realiseren hebben wij €1000 nodig.
Iedere donatie, klein of groot, is een stukje dichterbij ons feestelijke activiteit.
Alvast hartelijke bedankt voor je interesse en eventuele steun.
Fundraiser organised by:
Zonnebloem Wezep
9

donations
€

120
of € 1000 raised
Fundraiser will run till 31-10-2121