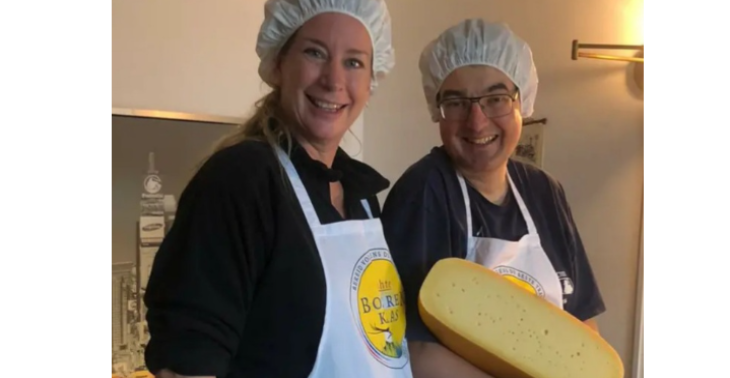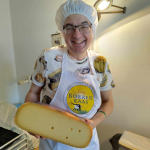 Share this fundraiser via:
Gratis kaas voor arme mensen! Ik koop hele kazen en hieruit snijd ik stukken en deze bied ik vervolgens kostenloos aan.
Het doel van deze actie is het inkopen van hele kazen bijv. een heel boerenkaaswiel van 12 kilo.
Deze hele kazen versnijd ik in stukken en of in plakken en deze stukken of plakken bied ik kostenloos aan aan meer als 2100 mensen in Haarlem en omgeving die weinig of niets te besteden hebben en voor wie kaas echt luxe is.
Kaas voor arme mensen.
Ik ben al met dit project gestart en het blijkt een hit te zijn!
Ik maak al zoveel mensen blij met een voor hen kostenloos stuk kaas!
Ik heb al zoveel mooie reacties ontvangen op mijn projectje dat ik heb besloten om dit initiatief te willen voortzetten als Filantropische Fromager.
Echter, ik doe het nu zonder enige financiële support en een heel kaaswiel is al snel tussen de 80 en 130 Euro
Dat bekostig ik nu zelf maar 't zou zo mooi zijn als ik hierbij wat ondersteuning zou kunnen krijgen zodat ik nog meer mensen van een lekker stuk kaas zou kunnen voorzien.
Die ondersteuning mag financieel waarbij zelfs 1 Euro al welkom is.
Maar een kaasdonatie in de vorm van kaas die ik weer kan versnijden in mooie stukken is al heel welkom!
Alvast mijn hartelijke dank en óók namens die 2000+ mensen voor wie ik dit doe.
Cees
Filantropische Fromager
Fundraiser organised by:

Cees Dool