Help James en Sukai weer wandelen!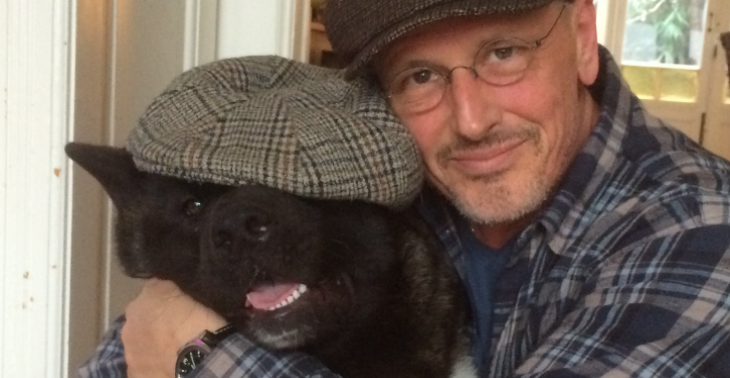 Sukai, 6,5 jaar, heeft een dure operatie nodig. De kniebanden van zijn achterpoot zijn afgescheurd en hij heeft veel pijn
132

donations
€

4000
of € 4000 raised
Dit zijn Sukai en James. Sinds 1,5 jaar zijn we wandelvrienden.
We kwamen elkaar een tijd lang een paar keer per week tegen in de ochtend. Hij aan de wandel met zijn 2 prachtige honden en zijn pet. Ik op de fiets op weg naar het station. We kenden elkaar niet. Na een aantal maanden begonnen we elkaar te groeten, dat ging zomaar als vanzelf.
In maart 2020 kwam Corona; ik ging niet meer naar het station en dus raakten we uit elkaars zicht. Máánden later bracht het toeval ons via Facebook met elkaar in contact en we werden 'vrienden'. Al snel volgde een wandelafspraak, want ja, what else was there to do?Urenlange tochten door de duinen onder het genot van take away coffee en goeie gesprekken, volgden. We werden vrienden irl :)
Tot afgescheurde kniebanden aan Sukai's achterpoot hem thuis hielden. Al een paar weken wordt er niet meer gewandeld. Hij kan geen gewicht op zijn achterpoot hebben, het doet gewoon teveel pijn. Zonder operatie gaat dit niet meer goed komen. Hij is nog maar 6,5 jaar oud en heeft nog een heel hondenleven voor zich. Een dergelijke operatie boekt goede resultaten en na revalidatie kan Sukai weer gewoon hond zijn, rennen en spelen en gelukkig zijn. De kosten van deze operatie worden geraamd op 4000 euro inclusief revalidatie.
Dezelfde Corona die ons onze wandelvriendschap heeft opgeleverd, heeft James financieel echter hard getroffen. Als sportleraar en personal trainer met een eigen studio heeft hij zeer magere 23 maanden achter de rug en al zijn reserves zijn op. Dit gigantische bedrag kan hij niet zelf opbrengen en dat doet hem groot verdriet. Wat James voor de moeilijke taak stelt nu hulp te vragen om de operatie van zijn lieve Sukai te kunnen bekostigen.
Daarom vraag ik langs deze weg of je iets kunt missen om dit mooie dier en zijn baasje nog een flink aantal jaren van elkaar te laten genieten. Vele bee(s)tjes maken een groot verschil!
Namens James en Sukai: Dank je wel!
Fundraiser organised by:
Annechien Touber
132

donations
€

4000
of € 4000 raised