Help mij (Alyssia) aan een autisme hulphond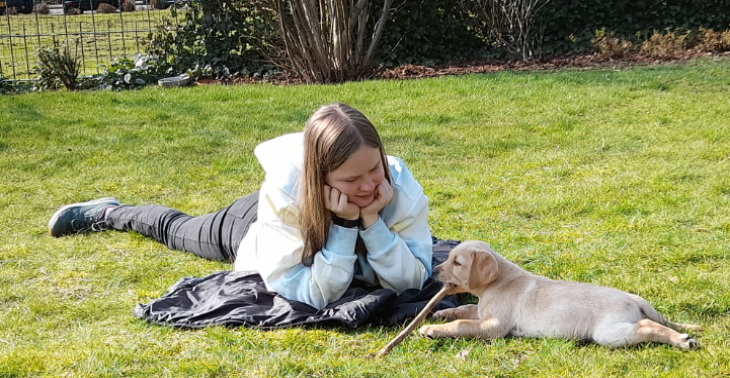 Share this fundraiser via:
Door jullie hulp zou ik mijn pup op kunnen leiden als autisme hond voor mijzelf. Deze kosten worden namelijk niet vergoed.
€0
of
€20,000
raised

Be the first to support this fundraiser!
Hallo lieve allemaal, bedankt alvast voor het lezen van mijn verhaal.

Liefs Alyssia

Ik heb sinds 12 maart een labrador pup die ik graag wil gaan trainen als autisme hulphond voor mij zelf. Ik ben 19 jaar en heb PDD-NOS en ADHD. Ik verneem dat ik hier steeds meer tegenaan loop. Ik merk dat ik mega gestresst ben en buiten de prikkels in winkels moeilijk kan verwerken. Ik ben dan ook het meest van de dag overprikkelt. Hierbij kan Bo mij dan ook helpen, hier wordt hij speciaal voor getraint. Ik zie dat Bo heel graag bij mij wil zijn en dat ik ook nu al erg veel aan hem heb. Als hij tot officiële hulphond kan worden getraint kan ik hem overal mee naartoe nemen en kan ik weer wat meer dingen gaan ondernemen, dit ook omdat hij dan mee mag naar winkels en andere ruimtes waar ik het nu eng vind om alleen heen te gaan. Het belangrijkste is dat ik er dan weer meer opuit kan, ook alleen. Ik merk dat dingen die voor anderen heel vanzelfsprekend zijn, het voor mij niet zijn. Zoals alleen zijn en alleen naar buiten gaan. Het lijkt mij heel fijn om weer van mijn leven te kunnen genieten en weer wat meer dingen alleen te durven ondernemen. Aan de buitenkant kun je niks aan mij zien, maar van binnen ben ik erg onzeker over hoe ik overkom naar de buitenwereld... Wat Bo voor mij kan gaan betekenen als hulphond is dat hij mij kan waarschuwen als ik onbewust veel stress opbouw, hij kan dat dan via een teken aan mij doorgeven. Hierdoor weet ik dan dat ik moet gaan rusten, verder geeft Bo mij dan veel zelfvertrouwen, omdat ik weet dat hij voor mij getraind is en er voor mij is op moeilijke momenten. Ik heb ook vaak paniekaanvallen, hier kan Bo dan ook op inspringen door mij te kalmeren. Verder heb ik PTSS, op deze momenten als ik het herbeleef kan Bo mij kalmeren en mij uit die situatie halen. Hierdoor blijf ik ook veel binnen, doordat Bo mij uit die situatie kan halen voel ik mij ook prettiger om op die momenten toch naar buiten te gaan.
Ik ga Bo trainen via een stichting, zodat hij een echte officiële hulphond wordt.
Fundraiser organised by:

Alyssia Rozema

Be the first to support this fundraiser!
Show all donations