Help onze hond Sya (Franse Bulldog)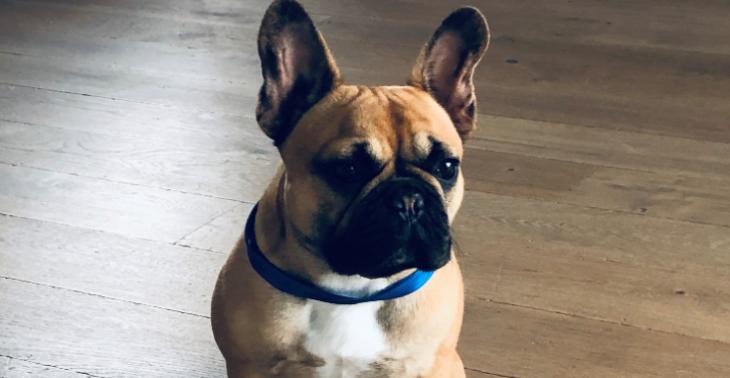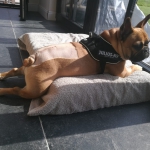 Share this fundraiser via:
Sya heeft meerdere standafwijkingen en hernia's aan de wervelkolom, sleept met de pootjes en is incontinent hierdoor.
€0
of
€10,000
raised

Be the first to support this fundraiser!
Dit is onze hond Sya, een Franse Bulldog teefje van 2 jaar oud. Sya is bij ons sinds ze 10 weken oud was, het is een hondje met een stamboom en ze komt uit een warm nest. We merkten echter op dat Sya anders liep met haar achterpoten dan andere honden. Op een dag gingen we wandelen en merkten we op dat ze aan het bloeden was aan de achterste pootjes, we zagen dat de nageltjes helemaal open lagen. Ondanks dat er geen neurologische afwijkingen in de stamboom zitten hebben we toch ons gevoel gevolgd en foto's laten nemen. Een RX en MRI werd genomen, voor deze laatste moesten we naar Eindhoven gaan een eindje van hier.

Uit de resultaten bleek dat ze een aangeboren afwijking had van de volledige wervelkolom. Er waren hernia's zichtbaar op meerdere plaatsen in de nek en aan de achterzijde. Ook was het heilig been niet aan elkaar gegroeid.
De specialist orthopedist heeft haar geopereerd aan de hernia's vanachter omwille van haar jonge leeftijd ze was toen 11 maanden. Het moest geopereerd worden of ze zou verlamd worden.

Na de operatie moesten we het rustig aan doen met haar en kleine wandelingetjes maken. Het leek beter te gaan maar enkele maanden later begon ze terug door de achterpoten te zakken en te slepen waardoor we nog geen 2 km op een verharde weg kunnen wandelen met haar of haar pootjes beginnen terug te bloeden.

Sya is een belangrijk onderdeel in onze familie, we willen haar niet laten gaan en haar een eerlijke kans geven zodat ze een normaal hondenleven kan leiden.

Nu sinds kort merken we ook dat ze incontinent aan het worden is. We hebben al 2 soorten medicaties uitgetest in de hoop dat dit niet te wijten is aan haar standafwijkingen van de wervelkolom maar tevergeefs ze blijft incontinent.
We moeten terug foto's laten maken en er zal een dure operatie volgen. Ook moeten we een oplossing zoeken voor de incontinentie.

We kunnen alle hulp gebruiken hierbij.
Indien je wil mag je iets klein doneren of deze link doorsturen naar je vrienden en/of familie. We zouden alle hulp hiervoor enorm kunnen gebruiken om ons hondje toch een waardig leven te kunnen geven.
Liefs van ons
Fundraiser organised by:

Stephanie Vanwetswinkel

Be the first to support this fundraiser!
Show all donations