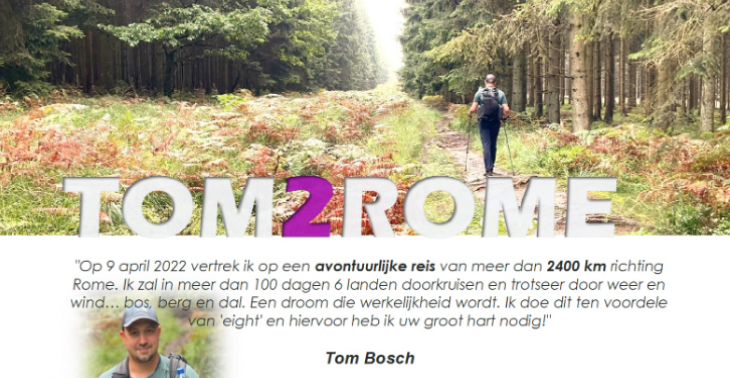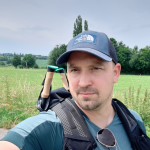 Share this fundraiser via:
Een wandeltocht van Bilzen naar Rome - 2400 km ten voordele van Eight - www.tom2rome.com
€0
of
€25,000
raised

Be the first to support this fundraiser!
Met veel trots stel ik je mijn 'Once in a lifetime' project voor dat laatst de officiële naam "Tom2Rome" kreeg.
Op 9 april 2022 vertrek ik te voet op een avontuurlijke reis van meer dan 2400 km richting Rome. Ik zal in meer dan 100 dagen 6 landen doorkruisen en trotseer door weer en wind, bergen, bossen en dalen. Een droom die werkelijkheid wordt.
Meer informatie over het hele project vindt u terug op www.tom2rome.com.
Bovenop dat deze reis mezelf geestelijk zal verrijken wil ik ook bijdragen aan een betere wereld door aan mijn project een 'goed doel' te koppelen. Na een lange maar weldoordachte zoektocht kwam ik uit bij 'Eight'.
Eight toonde aan in een pilootproject dat het mogelijk is om geld rechtstreeks aan mensen in armoede te geven zonder beroep te doen op grote instellingen of grote budgetten. Eenvoudige gsm's, mobile money en de steun van een overtuigde groep ondernemers en altruïsten maakten dit mogelijk. Onvoorwaardelijke maandelijkse geldtransfers aan mensen in extreme armoede gedurende een heel jaar. Voor €8 per maand geeft u een menswaardig bestaan aan een kind. €32 per maand volstaat om één volwassene en twee kinderen uit de armoede te halen. Voor 64€ per maand geeft u een familie met twee volwassenen en vier kinderen voldoende middelen om hun leven drastisch te verbeteren.
Concreet wandel ik 2400 km tot Rome om een klein dorp in Congo dat leeft in extreme armoede – mede door de klimaatsverandering – een menswaardig bestaan te bieden. "Met dit project wil ik het minimumbedrag van € 25.000 inzamelen om alle inwoners, 1 jaar lang, elke maand, onvoorwaardelijk een maandloon te kunnen geven."
Hiervoor wil ik rekenen op mensen met een warm hart!
Fundraiser organised by:

Tom Bosch

Be the first to support this fundraiser!
Show all donations