Signaal/hulphond PTSS/Angst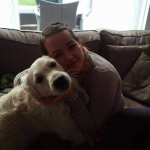 Share this fundraiser via:
Pup op te leiden tot signaal/hulphond
€0
of
€15,000
raised

Be the first to support this fundraiser!
Mijn naam is Cassandra 34 jaar oud en woonachtig in Zoetermeer.
Door verschillende trauma's uit het verleden heb ik PTSS, en een angststoornis ontwikkeld waar ik al meer dan 12 jaar hard aan werk.
Mijn angststoornis is helaas nog niet veel minder geworden evenals mijn dagelijkse nachtmerries.
Ik vermijd drukke plekken en ben door mijn angst vaak aan huis gekluisterd.
Dolgraag zou ik met een pup trainingen willen doen om hem/haar op te leiden tot hulp/signaalhond.
Een hond die mij wakker kan maken uit nachtmerries en mij kan waarschuwen voor angstaanvallen, zodat ik weer vaker naar buiten kan en niet meer zo bang hoef te zijn dat de angst en paniekaanvallen mij vanuit het niks overvallen.
Al geruime tijd ben ik bezig zoveel mogelijk informatie te krijgen bij verschillende instanties en de gemeente helaas kan de gemeente Zoetermeer niks voor mij betekenen omdat zij daar geen pot voor hebben.
Mijn zorgverzekering dekt dit ook niet, alleen blindengeleidehonden. Hierdoor moet ik de kosten uit eigen zak betalen en dit is voor mij niet haalbaar.
Fundraiser organised by:

Cassandra Van Es

Be the first to support this fundraiser!
Show all donations