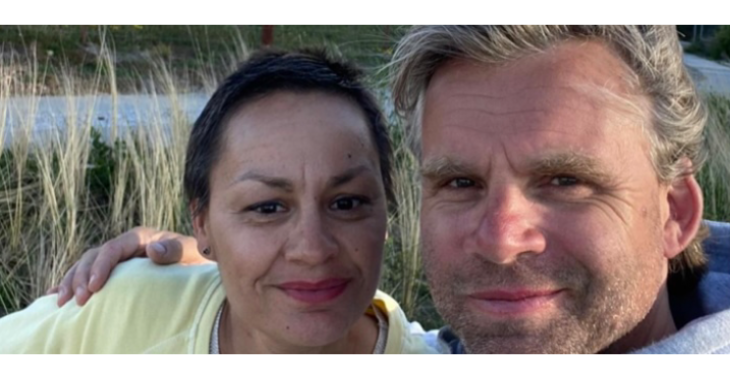 Alle kleine beetjes helpen
0

donations
€0
of €86,000 raised

Be the first to support this fundraiser!
Ik ben Mariska Dolstra Poelsma vrouw, moeder, echtgenoot en opgegeven kankerpatiënt
Ik ben Mariska en ik heb baarmoederhalskanker. Ondanks uitstrijkjes in 2016 en 2014 met een PAP1=goede uitslag.
K*kanker. En ik ben uitbehandeld, in Nederland dan. Ik kreeg de zwaarste chemokuur die het ziekenhuis mij aanbood: 6 kuren. De laatste kuur werd afgezegd vanwege het coronavirus dat de wereld in een ijzeren greep houdt.
Ik smeekte de artsen, maar het antwoord was steevast 'nee'. Ondanks de veelbelovende resultaten van de eerste 3 kuren. Sinds vorig jaar oktober leef ik tussen hoop en vrees. En mijn kostbare tijd tikt door. Ik weet niet hoe lang ik nog leef.
Genezing in Duitsland
Duitsland biedt mij de kans om te genezen van deze vreselijke ziekte. Daar is een therapie speciaal 'op maat' voor mij: een combinatiechemo met immuuntherapieën. Dit krijg ik:
· Elke 3 weken een analyse door artsen. Ze bekijken mijn bloed om tumormarkers en tumormutaties te bekijken.
· De behandeling wordt daarop aangepast. Kankercellen kunnen namelijk veranderen.
· Diverse gepersonaliseerde immuunbehandelingen zoals New Castle Disease Virus Vaccinatie, HPV vaccinatie, Dendritische Celtherapie.
· Afhankelijk van de bloed en tumormakers een combinatie van een lichte chemo en/of antilichaam behandeling zoals Herceptine en/of Keytruda therapie.
De resultaten van deze intensieve immuuntherapie zijn erg bemoedigend. Ik praat met veel vrouwen die dezelfde behandeling kregen en inmiddels herstellen van baarmoederhalskanker. Er is zelfs een vrouw die nog 12 weken 'mocht' leven: ze leeft nog steeds na 18 jaar! Een andere vrouw in Nederland was ook opgegeven en is nu bijna 1,5 jaar schoon.
Dit wil ik ook! Het kan!
Ik heb een bedrag van totaal € 86.000 aan donaties nodig. Elk bedrag helpt. Hoe klein ook. Ik ben dankbaar. Help jij mee?
Overlijd ik voordat de behandeling start dan gaat het geld naar een goed doel om andere vrouwen te helpen.

Ik heb het afgelopen jaar al vele infuus behandelingen zoals ozontherapie en vitamine C gehad. Medicatie uit het buitenland besteld om mijn kanker te onderdrukken. Iets wat allemaal niet vergoed wordt omdat het niet erkend is in Nederland. Ik gebruik het omdat er teveel bewijzen zijn van mensen die wel in remissie/genezen zijn door dit te doen. Waarom zou ik het niet zijn bij wie het ook werkt?
Immuunbehandeling in Duitsland: Hoopvol, veelbelovend en duur.
Dit is zo ontzettend duur. Het is innovatief en veelbelovend.
Ik doe zelf ook alles om het geld voor de behandeling bij elkaar te verzamelen. In totaal kost de behandeling € 186.000. Zo verkoop ik ook het huis van mijn lieve moeder die is overleden aan longkanker in 2015. Het huis was de erfenis voor mijn 3 jonge kinderen. Ze zal het vast niet erg vinden dat ik haar huis gebruik om mij een kans te geven om te genezen. Dat haar kleinkinderen nog een levende moeder hebben. Ik wil deze behandeling afmaken, mij volledig hiervoor inzetten. Ik kan het niet alleen. Ik heb jouw hulp nodig.
Mijn doel: genezen én andere vrouwen helpen.
Ik sta op voor mezelf. En voor anderen. Mijn doel: genezen én andere vrouwen helpen die hetzelfde doormaken.
Ik wil een platform oprichten met heldere informatie, inspiratie en een plek waar zij steun vinden bij elkaar. Ik wil voorkomen dat andere vrouwen in dezelfde jungle belanden. In Jumanji. Een onbegaanbare jungle waarop je op jezelf bent aangewezen. Je moet zelf uitzoeken waar de genezing is. Ondertussen kom je de meest onbegaanbare paden en hoogste muren en diepste ravijnen tegen. En de tijd? Die tikt genadeloos door.
Help mij om mijn behandeling te kunnen betalen én om mijn kanker en genezing groter te maken dan mijzelf.
Denk niet alleen aan doneren, maar delen met jouw netwerk helpt ook!
Fundraiser organised by:

Els Van den sloop
0

donations
€0
of €86,000 raised

Be the first to support this fundraiser!
Show all donations