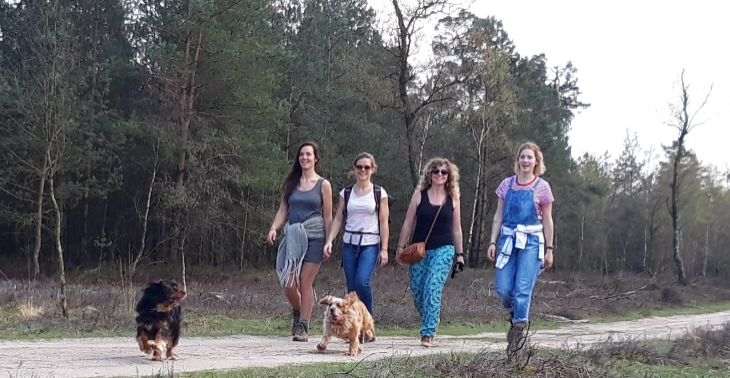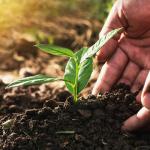 2500km wandelen voor de toekomst!
Hallo iedereen,

Fijn dat je deze pagina bezoekt.
Wij zijn Josephine, Paulien, Helena & Karen.
Vier vriendinnen met een missie!
Het komende jaar gaan wij samen 2500km wandelen en hopelijk €2500 inzamelen om 125 bomen te planten!

De aarde heeft onze hulp nodig. Dat is wel duidelijk, toch? Mocht je dat nog niet zijn opgevallen...
Kijk eens goed om je heen: Hoeveel afval zie jij rondslingeren? Hoeveel bomen werden er al gekapt in het bos waar je vroeger speelde? Hoeveel auto's rijden er rond? Hoeveel dieren worden er elke dag gedood zodat er iets lekkers op ons bord ligt? Hoeveel mensen sterven er aan kanker, aan COVID19, aan longziektes, psychologische aandoeningen,...? Hoeveel tijd hebben wij nog nodig om te beseffen dat de aarde roept dat het (bijna) te laat is? Althans voor de mensheid, niet voor de aarde. Die redt zich wel. En als we op deze manier voort doen, nog het liefst zonder ons.

Maar het kan anders... We kunnen -samen- zorg dragen voor de aarde, en bijgevolg ook voor elkaar. Want, een betere leefomgeving betekent meer natuur, meer zuurstof, minder CO2, minder ziektes,...

Onze missie zal geen wereld kunnen veranderen. Maar we willen er graag aan bijdragen.

We doneren aan BOS+ want:
BOS+ zet zich in voor het (her)aanplanten van bossen in Vlaanderen, Amerika en Afrika. Bossen, die elke dag in voetbalveldformaat verdwijnen, zijn de basis van ons ecosysteem! Minder bomen, minder zuurstof, meer CO2, minder plaats voor alle dieren, meer plaats voor ziektes, industrie, massaproductie,... Meer bomen zijn dus de basis voor een betere levenskwaliteit!

We wandelen ook voor tante Rita, omdat zij de oneerlijke strijd verloor tegen kanker. Maar ook voor iedereen die een dierbare aan deze vreselijke ziekte verloor of er op dit moment tegen vecht.
Het kan anders, het moet anders!

Wij hopen dat elke kilometer die wij wandelen minstens een euro waard is zodat wij aan het einde van ons jaar minstens €2500 kunnen doneren aan BOS+ voor de aanplanting van ongeveer 125 bomen.
(De aanplanting van een boom kost in België ongeveer €20, voor meer info zie website BOS+)
- SAMEN kunnen we zorg dragen voor de aarde en voor elkaar!
- Dankzij jouw hulp kunnen wij onze bijdrage doen.
- Steun ons project en stort jouw bijdrage via deze pagina (niet fiscaal aftrekbaar) of via de pagina van BOS+ (fiscaal aftrekbaar vanaf een donatie van €40)
https://www.bosplus.be/nl/bos/bubbels

Zie onze facebookpagina @wlk.the.future voor meer info!
Je vindt er meer (praktische) informatie en we posten er steeds de bewandelde kilometers, foto's, weetjes,... zo blijf je op de hoogte van onze acties!
Let's do this together - Dankjewel voor je hulp!
Fundraiser organised for:

Bos+
Vijf strategische doelen van BOS+
BOS+ realiseert acties op het terrein met een dubbel doel: duurzame lokale ontwikkeling én behoud, duurzaam beheer, herstel of uitbreiding van bos.
BOS+ zet in op capaciteitsversterking van bosbeheerders met het oog op duurzaam multifunctioneel bos- en natuurbeheer.
BOS+ biedt onderwijs en middenveld een kwaliteitsvol educatief aanbod over het belang van bos en bomen, om hen te stimuleren de transitie te maken naar duurzame attitudes en gedrag.
BOS+ informeert en sensibiliseert ondernemingen en middenveld over het maatschappelijk belang van bomen en bossen, en activeert hen om bij te dragen tot meer en beter bos.
Aan de hand van een actief pers- en communicatiebeleid brengt BOS+ haar analyses, standpunten en eisen onder de aandacht van beleidsmakers, opiniemakers en de publieke opinie en draagt zo bij tot meer maatschappelijke waardering van bomen en bos.
Fundraiser organised by:

Karen Reynvoet